EASY LIKE NEVER BEFORE - ADHESIVE WEIGHTS ON ENDLESS ROLLS
From 12 to 1: New adhesive weights on endless rolls as an alternative to the numerous individual weights simplify materials management and reduce complexity. Even profile variants or colour options are now easy to implement. This is the future.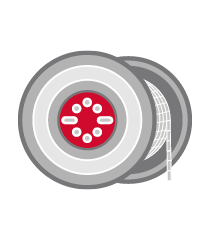 INTELLIGENT LIKE NEVER BEFORE - SPECIALLY DEVELOPED DISPENSERS
Stay flexible, decide smart: Specially developed dispensers automatically transport the weights to the balancing station and accurately separate the required grammage. Thanks to the intelligent modularity of the dispenser systems, every customer can decide for themselves how to optimally integrate the process into their production line. Retrofitting is also to implement. Simply perfect.
ECONOMICAL LIKE NEVER BEFORE - DISPENSER WITH INCREASED ROLL CAPACITY
Who saves wins: The WA 500-1 dispenser saves 50% of the space compared to the manual pick-by-light system with its 500 wheel capacity. The WA 2000-1 dispenser, which was developed for mass production, only needs 2/3 of the space of conventional workstations.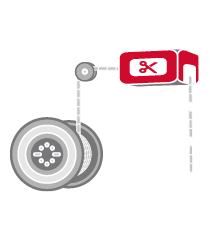 FAST LIKE NEVER BEFORE - FULLY AUTOMATIC WHEEL BALANCING
12 seconds make all the difference: Highest efficiency and reliability: The fully automatic wheel balancing station needs 12 seconds to apply the exact right weight. Compared to manual balancing, this saves up to 40% of time, and at a much lower error rate. A quantum leap.
PRECISE LIKE NEVER BEFORE - APPLICATION OF ADHESIVE WEIGHTS ON A NEW LEVEL
Always right, automatically: For the very first time, the new dispensers make it possible to fully automate the balancing process. With the help of the robot, the production bottleneck can be eliminated and the application quality can be increased to a new level. Balancing 4.0.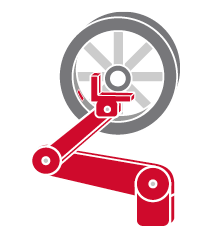 YOUR ADVANTAGES
Increased productivity

Reduced complexity

Proven & approved OEM weight technology

Integration into existing processes possible