CAR VALVES - THE RIGHT VALVE FOR EVERY RIM
Just like balancing weights, car valves and motorcycle valves are subject to heavy wear and many external influences during their lifetime. This can lead to a loss of pressure in the tyre and thus represents a safety risk. That is why car valves and motorcycle valves should be replaced each time the tires are changed. The WEGMANN automotive product range includes not only standard car valves but also offers special valves for cars and trucks, as well as special solutions for tractors, construction machinery, and two-wheelers. No matter whether you choose the premium quality of our ALLIGATOR brand or the trade-optimized car valves from Perfect EQUIPMENT: With car valves from WEGMANN automotive you are always right.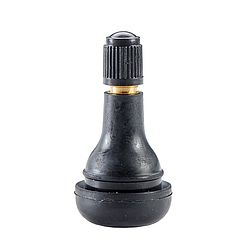 CAR AND MOTORCYCLE VALVES FROM WEGMANN AUTOMOTIVE - ALWAYS THE RIGHT CHOICE
We offer a wide range of tire valves to meet the highest demands. Our premium brand ALLIGATOR offers a full range of rubber and metal valves for cars, vans, trucks, motorcycles, scooters, tractors and construction machinery, as well as a wide selection of sensors and accessories. Under the Perfect EQUIPMENT brand you will find tire valves specially optimized for the trade, ideally covering the needs of the workshop.
CAR VALVES FROM HOFMANN POWER WEIGHT - OEM STANDARD
ALLIGATOR offers car valves of premium OE quality and a long product service life. In order to avoid contact corrosion, only a nickel-plated valve insert is used for car valves. In its day-to-day business, ALLIGATOR provides its customers with advice and support on questions relating to car valves, sensor technology and accessories: first-class service quality is the top priority. In addition, information on autovalves such as installation instructions and data sheets is made available on the ALLIGATOR website. The advantages of ALLIGATOR car valves at a glance:
OE-Qualität
Breites Produktsortiment
Höchster Service
CAR VALVES FROM PERFECT EQUIPMENT - OPTIMIZED FOR RETAIL TRAD
Perfect EQUIPMENT car valves are the perfect solution for workshops - high in quality, resistant and trade-optimised. All Perfect EQUIPMENT car valves are made of high-quality rubber and brass. Both materials offer high resistance to critical environmental influences and mechanical stress. Further information about car valves can be found on the PERFECT EQUIPMENT website.